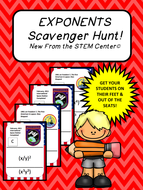 Exponents Scavenger Hunt!
Exponents Scavenger Hunt!

Do you need a fun way for students to practice exponent properties with very little prep? The Exponent Properties Scavenger Hunt Game gets students up and moving around while practicing exponent mathematics. In this game, students use the answer to one problem to find another problem hanging around the classroom. Students will complete a total of 12 problems to create an easy to check phrase. The student worksheet, scavenger hunt problems, instructions, and teacher's key are all included. This product is teacher tested and student approved. This scavenger hunt features science facts concerning the USA space exploration program.
Read more