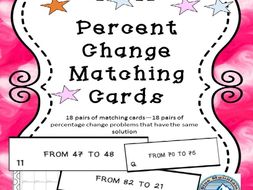 Finding Percentage Change Matching Card Set B
Students practice finding the percentage change of two numbers in this matching activity to use in a variety of ways. The set includes 18 pairs of matching cards, each card has a proble m with two numbers on it. Once students find their answer, they find their match in the room--another student whose problem has the same answer as theirs.


Cut apart and use for a single student or pair of students or use as a station/group activity. You can also use these cards as a ticket in the door or ticket out the door. Additional uses for these cards are explained in the directions or download my free resource.
Read more