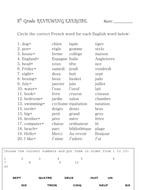 First lesson back reviewing exercise
A simple circling exercise for low ability/SEN student to revise 6th and 7th Grade vocabulary.
Read more
About this resource
Info
Created: Sep 6, 2006
Updated: Aug 19, 2015
This resource is designed for US teachers. View UK version .
Other resources by this author
Team quiz with 40 questions about French geography, culture, food, brands, and sport. Lots of visuals. Answers included. Suitable for whole lesson ...
jane80
Updated for 2018 10-15 minute quiz about Great Britain with multiple choice answers and brands to label. Lots of visuals. Answers included. Good fo...
jane80
Stand alone lesson cultural based around French band Daft Punk. Tasks include ID form, match-up, translation, video clips and robot mask to label a...
jane80
Popular paid resources
PowerPoint and accompanying workpack designed to encourage pupils to use a variety of complex structures in their spoken and written French. An ext...
maryjane1969
This is a lesson I produced for my Lower Sixth to introduce the subjunctive. There is a worksheet to accompany the presentation with a fairly compr...
maryjane1969
Print out the cards and laminate them. Pupils work in pairs or small groups and race against each other to form the perfect tense with the cards af...
maryjane1969
New resources
Article and exercises on family topic - the nature of mother-daughter arguments. Practises conjugation/grammar section of AS exam. Pupils must fill...
leptir109
Full explanation of why accents are used in French including activities and a section for pupils to search in a dictionary and find accents they ca...
leptir109
Updated resources
A Level French, set literary text, Un Sac de Billes Worksheet accompanying the study of Chapter 5 Sentences in English for translation into French,...
nadinepgs
A Level French, set literary text, Un Sac de Billes, Worksheet accompanying the study of Chapter 4
nadinepgs
A Level French, set literary text, Un Sac de Billes Worksheet accompanying the study of Chapter 3
nadinepgs