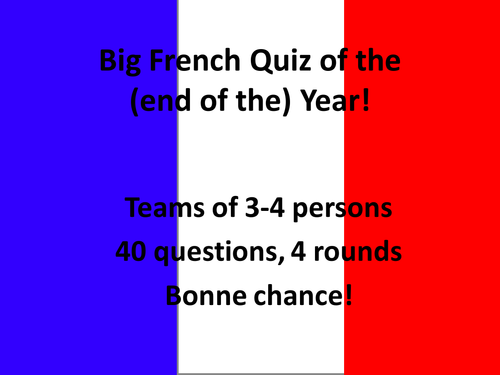 Team quiz with 40 questions about French geography, culture, food, brands, and sport. Lots of visuals. Answers included. Suitable for whole lesson in KS2, 3 and 4.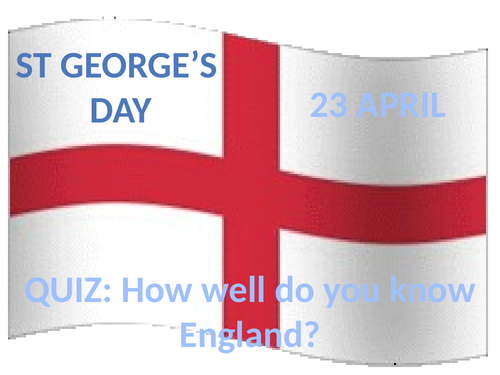 Updated for 2018 10-15 minute quiz about Great Britain with multiple choice answers and brands to label. Lots of visuals. Answers included. Good for assembly, form time, British Values.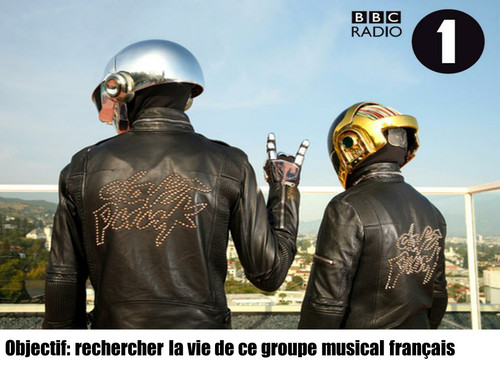 Stand alone lesson cultural based around French band Daft Punk. Tasks include ID form, match-up, translation, video clips and robot mask to label and colour. For low ability KS3.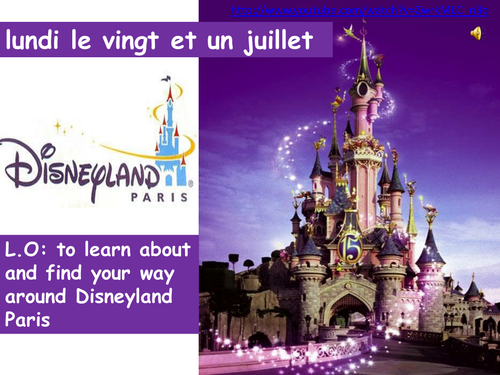 Stand alone lesson based around Disneyland Paris. Tasks include match-up, numeracy challenge, discussion, role play and plenary quiz. Suitable for KS2 or KS3 all abilities.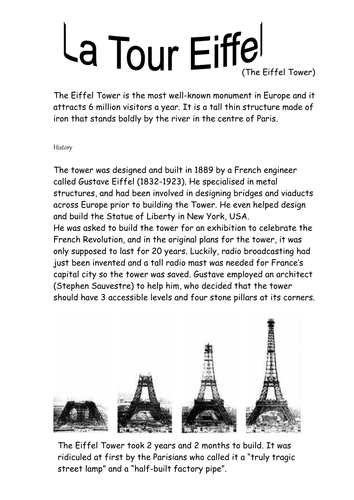 3 pages of info, facts and images about the Eiffel Tower (in English) plus a page of reading comprehension questions and further written activities. Suitable for homework, a non specialist or for cover work, in KS2 or KS3 low ability.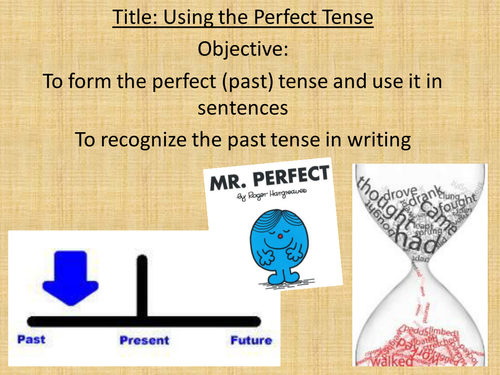 A very simple explanation of the perfect tense (verbs which take avoir only), broken down into simple instructions, a section on irregular verbs, and a section on using with time markers. Clear visually appealing slides and short tasks/mini plenaries to check progress. 22 slides in total. For lower ability KS3. My own low ability Y8 and Y9 coped perfectly well with this.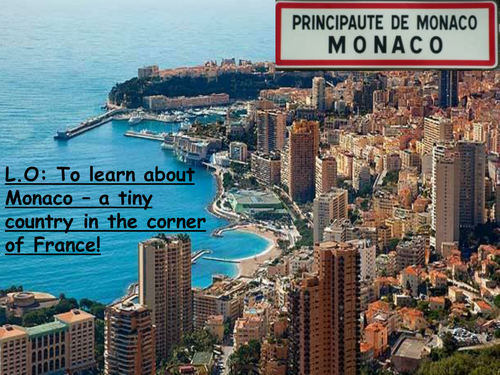 Whole lesson giving factual info about Monaco with tasks. Includes support vocab sheet (optional). Suitable for a non specialist. KS2 and 3. Great visuals. Links to clips. Great success in all classes used previously.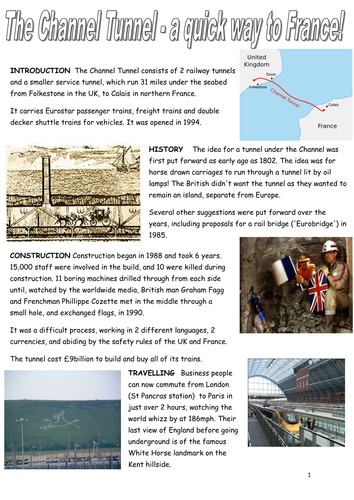 Stand alone factual lesson about the history of the Channel Tunnel. Literacy/media task and reading comprehension questions. Ideal for a non-specialist or cover work.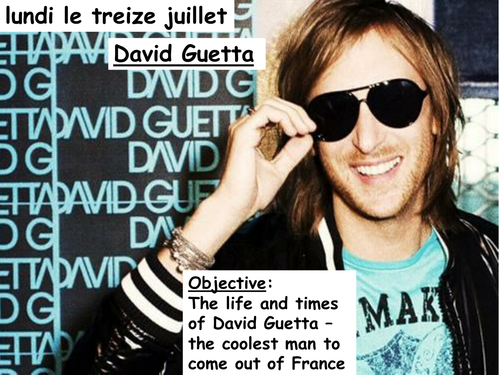 Stand alone lesson on French DJ David Guetta Tasks include factfile, quiz, reading comprehension and video. Suitable for non-specialist. For KS3 all abilities.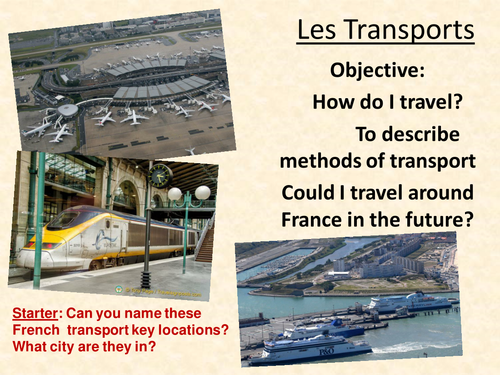 Simple presentation (30 slides) of transport vocabulary with some background info given about each. Written task, survey and plenary vocab multiple choice quiz. Also, 2 page transport quiz suitable for homework or computer room with questions such as how wide is the English Channel and what does TGV stand for. Lots of visuals. Suitable for KS2 and lower ability KS3.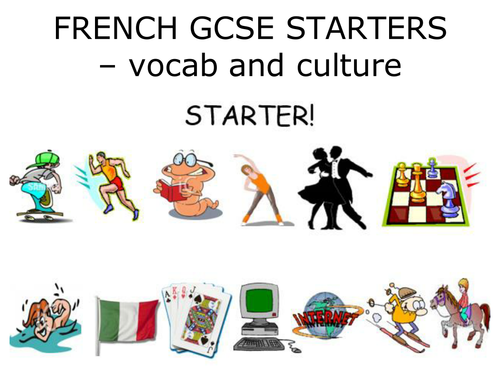 10 starter activities - first letter of each picture will spell out a word in French which is a cultural reference . Words taken from AQA specification. Nice visuals - students really enjoyed these.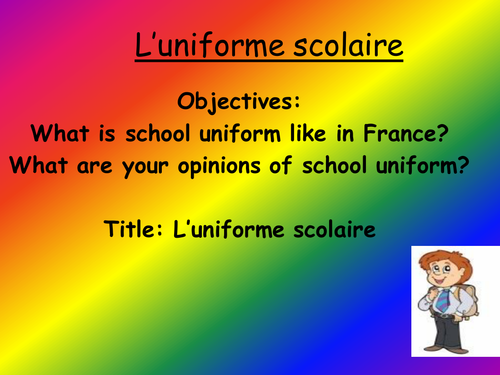 Stand alone lesson on school uniform. Cultural and background info to share and discuss then a kinaesthetic activity to recognise language and widen the debate. Bonus clothes vocab worksheet included.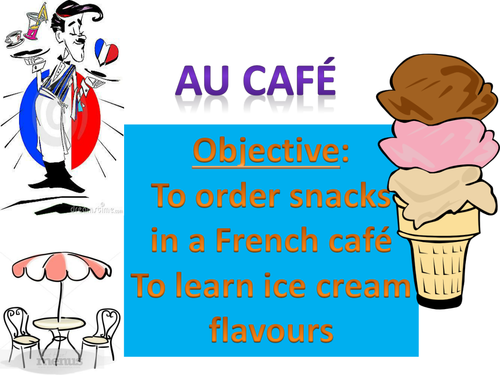 Cultural information about buying snacks and ice cream in France, with role play, reading comprehension and plenary. For lower ability KS3.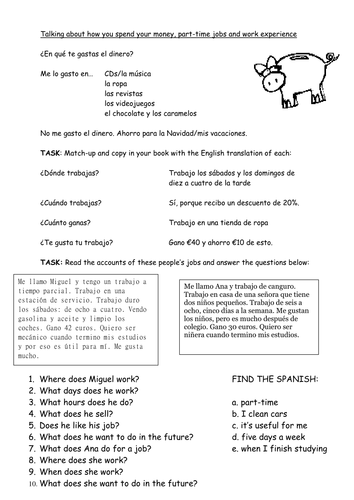 <p>Simple handout with tasks to help with part-time jobs, pocket money and work experience.</p>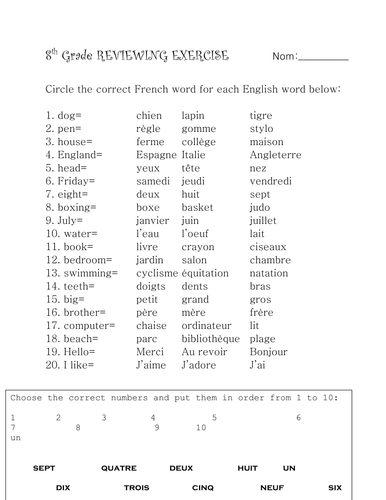 A simple circling exercise for low ability/SEN student to revise 6th and 7th Grade vocabulary.