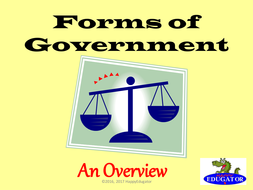 Forms of Government PowerPoint
Forms of Government PowerPoint. Fundamental forms of government to introduce students to basic concepts for understanding governments...Terms: anarchy, tyranny, autocracy, monarchy, dictatorship, patriarchy, theocracy, oligarchy, aristocracy, plutocracy, democracy, direct democracy and representative democracy with Presidential and Parliamentary systems, federalism, centralism, and fascism. Includes link to a hangman game on forms of government and a great website that compares all types of government that students may enjoy exploring.

©2017 HappyEdugator.
Read more
About this resource
Info
Created: Apr 14, 2017
Updated: Feb 22, 2018