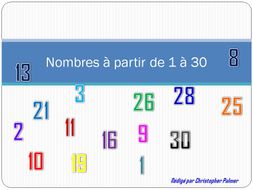 French: Numbers 1-30
This powerpoint teachers numbers from 1-30 in French. It also reinforces or introduces age and years in French, in addition to how to express one's age and when one was born in French. There are also follow up activities in this powerpoint such as picture pairs and French mathematics.

The powerpoint is aimed at Key Stage 2-3 French.

Happy teaching and learning!
Read more