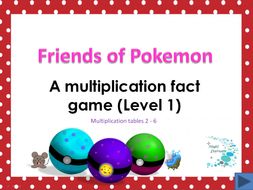 Friends of Pokeman - A fun way to learn multiplication tables 2 - 6 (Level1)
This is a fun and and playful means to review multiplication facts (Multiplication tables from 2 – 6) .

Content : This is Microsoft Powerpoint based interactive game and contains 25 pages of multiplication questions. It includes questions for each multiplication table as well as an overall revision section.
Read more