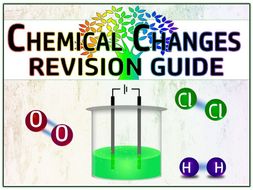 GCSE Chemistry 9-1: Chemical Changes (Acids, Alkalis and Electrolysis) Revision Guide
This is a whole topic revision booklet aimed at the new 2016 Science GCSE.
It covers everything the students need to know about the Acids and Alkalis topic as well as the Electrolytic Processes topic, including:
1. What are acids and alkalis in terms of ions
2. What is the effect of indicators
3. Strong, weak, dilute and concentrated Acids
4. The two Core Practicals
5. Naming Salts and Writing Balanced Equations
6. Preparing Pure salts from different reactants
7. Solubility Rules
8. What is Electrolysis / an electrolyte?
9. Oxidation, Reduction and naming the electrodes
10. Writing Half Equations
11. Core Practical: Electrolysis of Copper Sulphate Solution
12. Predicting the Products of electrolysis
It comes as a whole booklet, or two separate topics so you can choose how to distribute to your students.
It contains:
A. Outcomes for the GCSE,
B. Video links which contain information, questions and model answers,
C. Revision notes which have been written by myself, specifically for the course
D. Practice exam questions
E. Model answers
This is designed for Edexcel but covers all aspects of AQA and OCR Chemistry.
Read more