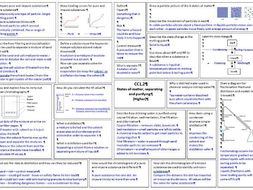 GCSE Edexcel 9-1 Combined Science Chemistry Revision Broadsheets (CC1-CC12)
A set of revision broadsheets for Edexcel 9-1 Combined Science (Chemistry) for the first 5 topics (CC1-CC12 using the Pearson identifiers). The broadsheets can be printed on A3 and make a useful revision aid. There are 8 sheets each with Higher and Standard tier all with their own answer sheets giving a total of 32 sheets.
See also my Knowledge Organisers for the same topics.
Read more