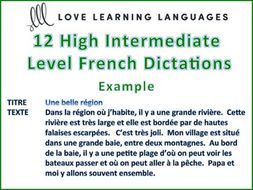 GCSE FRENCH: 12 Intermediate - Advanced Level French Dictée Exercises
Here are twelve intermediate - advanced level French dictations to use with your students. Each dictation is a separate audio file. Answer key and translation provided for each dictation.

Sample text:

TITRE: Notre fleuve
TEXTE: TEXTE : Toi et moi, nous habitons le long du même fleuve. C'est ce fleuve qui nous apporte l'eau que nous buvons. Je suis chanceux. L'eau que je bois est filtrée pour la rendre potable. Elle est bonne pour ma santé. Mais si à cause de moi l'eau qui retourne au fleuve est pleine de déchets, toi, tu boiras peut-être une eau polluée. Tu es mon ami, et je veux que tu restes en santé. Pour toi, je ferai attention à notre fleuve.
Read more