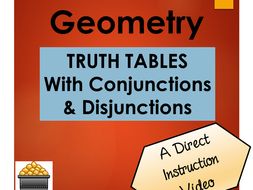 Geometry Truth Tables with Conjunctions and Disjunctions
Are you having trouble figuring out how best to explain the way to complete a truth table? This is a useful and instructive video that shows you step-by-step how to complete two truth tables containing negations, conjunctions, and disjunctions. One example is built from two statements and the other is built from three statements, and the document that goes with it enables you to print out a hard copy if needed.

Enjoy discovering something valuable!
Read more