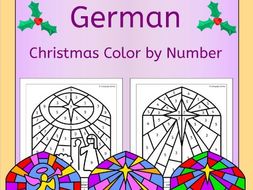 German Christmas Color by Number
A fun Christmas activity which practices simple color and number vocabulary. Beautiful and classic stained glass style Xmas designs which can be used to create a beautiful wall display or cut out and put on Xmas cards. The jewel colors look perfect mounted on a black background.

This pack contains six different designs. Each design comes in two versions. The first version has both number and color words. The second has number words but not colors, in case the teacher wants to teach particular colors or for students to choose the colors themselves.
Read more