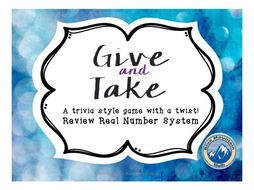 Give and Take Real Number System
This is a trivia style game where students answer questions about ordering, classifying and comparing real numbers. You will place the students into teams and then show the questions, one at a time. I ask the team to collaborate on an answer, write on a whiteboard and then show all at once. Teams with the correct answer will either give or take the points from another team.

This will keep all teams engaged with the extra strategy involved. Worksheets for students to show their work will increase accountability.
Read more