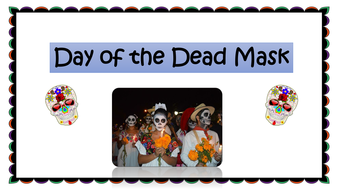 TES PICKS
Halloween and Day of the Dead literacy and creative activities
A great resource to get learners excited about the Halloween and Day of the Dead 2016!
The resource includes 5 theme activities:
-Creating a Halloween monster
-Writing a dribble (100 word story)
-Day of the Dead find-a-word
-Mindfulness Colouring -Day of the Dead skulls
-Day of the Dead skull masks
-Teachers notes and suggested teaching strategies
-Answers
This resource has been thoroughly designed so no extra prep or specialized ability is needed! It can form a standalone literacy and art lesson, can be left as a cover lesson or used during Form group or 'Down time'.
Can be easily adapted to suit other lessons you may have already planned.
This lesson should be accessible to KS2 and KS3 students.
Activities are differentiated and provide a challenge for more able students.
Please rate if you enjoyed!
Click on my display name to see my other excellent resources.
Read more