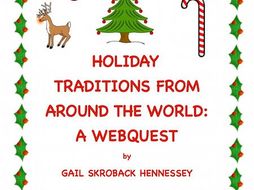 Holiday Traditions from Around the World
Whenever different cultures meet, ideas are exchanged. Did you know that skiing was started by the people of Norway? Did you know that the kite and fireworks were invented by the people of China? The idea of Trial by Jury and the idea of Democracy come to us from the Ancient Greeks. Chocolate came from the Aztecs people and the ancient Mesopotamian people first came up with a number system based on 60.

During the holidays is a great time to share with kids the many traditions which have been shared with different cultures. Learn the history behind some popular holiday traditions with this webquest.
Read more