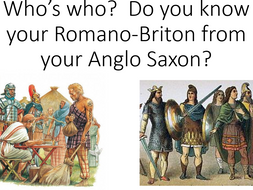 TES PICKS
How different was Anglo Saxon Britain from Roman Britain - a comparison of two peoples.
Who's who? Do you know your Romano Britons from your Anglo Saxon?

LO: To understand historical concepts such as continuity and change, cause and consequence, similarity, difference and significance, and use them to make connections and draw contrasts (KS2)

LO: To apply the above to the study of an aspect or theme in British history that consolidates and extends pupils' chronological knowledge from before 1066 (KS3)

A complete activity to help children understand the similarities and differences between the Anglo Saxon and Romano British societies in Britain during the first millennium.

The activity consists of:

Teaching Input:

1. A PowerPoint identifying the key similarities and differences between the Romano Britons and Anglo Saxons including information about their:
- Origins
- settlements
- everyday lives
- lives of women and children
- laws and punishments
- beliefs
- stories and legends
- legacy.

This can either be run as an introduction, or shared with children in groups or pairs.

Independent Task:

2. A sorting activity consisting of a series of statements which apply to Romano Britons, Anglo Saxons, both, or neither. (This includes a fact sheet for teacher use, providing the correct answers and a series of websites which provide additional source information)

3. A set of different templates to allow you to choose how this information is then represented.

Challenge / Extension / AG&T

Using websites listed, children could try to find additional information about both peoples.

Plenary

Mark with the children, getting them to identify which description applies to which people.

Pose and discuss the statement The Anglo Saxons period is often called the Dark Ages because it is said that they destroyed Roman civilisation. In what ways were the Anglo Saxons more civilised than the Romans?
Read more