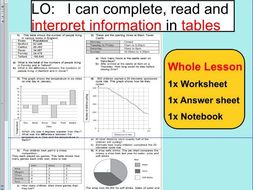 Interpret information in Tables, Graphs and charts - applying problems - KS2 Year 5 6 - WHOLE LESSON
Learning Objective: LO: I can complete, read and interpret information in tables.

This resource is suitable for 1 whole lesson. May lead to second lesson depending on ability.

It includes:

1x SMART Notebook - 1x Worksheeet - 1x Answer sheet for marking

For WORKSHEET ONLY, click here


**This resource was made taking account of the National Curriculum Framework 2014 **

The SMART Notebook is for teacher input - The Notebook includes a quick starter , warm-up (multiplication wheel) and several questions based on the LO. (Please make sure you have the SMART Notebook software to use this).

For any questions: simply email unalolgan@hotmail.com

I will try to help if you have any queries.
About this resource
Info
Created: Nov 13, 2016
Updated: Feb 22, 2018
By adding a School licence it allows you to share this resource with colleagues at your school. Without it, this resource is licensed for use only by you. Read licence details