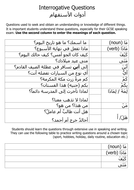 Interrogative Question Tools
Table of important questions the student should be able to use and recognise.
About this resource
Info
Created: Nov 27, 2016
Updated: Aug 26, 2017
Other resources by this author
Family Members - how to say 'a' mum 'the' mum and 'my' mum and so on
sayma_shahid121
Popular paid resources
This guidance for working with pupils new to English highlights the areas that primary school teachers need to take into account when supporting ne...
sue_morgan1
11 Arab proverbs with illustrations, transliteration and meaning for classroom display for Arabic learners.
chawki
These Arabic Beginning Sound Clip Cards are a fantastic way for learners to practice their Arabic sounds. This is a great way to reinforce vocabula...
MsColes86
Updated resources
This resource contains PowerPoint Lesson on Words Ending in ge/dge This resource includes a fully editable, interactive and highly visual 55- slide...
Krazikas
#Clothes #Vocab in #Arabic - #Worksheets
nmekky
Practice the different shapes of the Arabic Letter Ba - Beginning, Middle, End, and Separate
nmekky