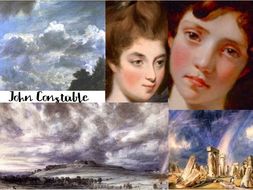 John Constable ~ English ~ Land Sea Clouds Portrait Art ~ Romance Era
This is a very comprehensive powerpoint program about the art of John Constable, covering all of his work. There are 152 slides of his Suffolk landscapes, his Brighton and Hove seascapes, his clouds and his portraits. There are even a few of his religious, flower and horse paintings, which he quickly deserted.

THERE ARE MANY ACTUAL SLIDES FOR YOUR REVIEW POSTED HERE. It is your best indicator of product quality.
Read more