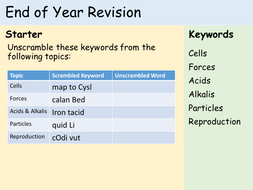 KS3 Cells, Reproduction, Forces, Acids, Particles Revision Game
Lesson Objectives
Recall facts about the five key topic areas
Apply knowledge of five topics to answer questions
Create a series of revision questions

Rules:
Students work in groups to compete to be the first team to complete all questions.

Each group will send one person up to the teacher to collect their first question, and take it back to their table for answering. Once the group believes to have completed their question, it is taken back to the teacher who will check. If it is correct, the student will take back the next question. If it is incorrect, then they will have to go back and try again.

The first team to complete all questions (or the most in the time allowed) will win!
Read more
About this resource
Info
Created: May 21, 2017
Updated: Feb 22, 2018