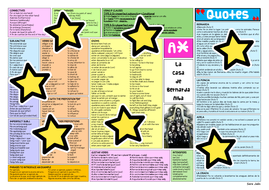 La Casa de Bernarda Alba - A3 Revision Mat
This mat is for those studying La Casa de BA. in the new Spanish Alevel.
It includes quotes, connectives, opinion phrases, intensifiers, idioms, subjunctive phrases and if clauses. Also, verbs that are followed by a preposition. I have tried to select verbs and idioms that apply to the play so that students can improve their essays.
It would be useful for the old curriculum A2 students too.
At the back, there are verb tables with all the regular conjugations to help students conjugate the verbs.
Read more