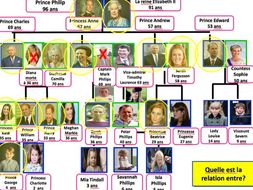 La famille
Y7 French (can be adapted to another language) lesson on family members with the royal family members as an example
Other resources by this author
Lesson on Food items for KS4 students Created for the New GCSE Topic: Healthy and Unhealthy lifestyles Including listening activities and worksheet...
mariemoison
How to get our students ready for the new GCSE. This lesson is a preparation for Y11 students based on the new French GCSE. Research have been made...
mariemoison
Y9 lesson on the future tense. Do it now task is to describe a picture ( getting them ready for the speaking gcse exam ! ) by asking two questions....
mariemoison
Popular paid resources
Pupils work in pairs or small groups and bid on whether they think the sentence is correct or not. I have included timers for each slide.
guccibabe
For beginners, presenting yourself.
nesd
BONJOUR - ÇA VA? Allez 1 or Tricolore 1 The first two lessons on how to greet someone in French. These two lessons come with fully editable power-p...
MllePierre
Updated resources
Beautiful A3 posters to display in your classroom or simply to print for your IB students, explaining what the five themes are for the 2020 French ...
Cynthia-G
This set of cards consists of 130 card pairs with hundreds of English - German sentence pairs in a 26-page pdf file . It is meant to be used by lea...
OnlyTheBestOnes
Free Flashcards to practise Basic French Sentences. There are 20 pairs of cards that are to be printed, cut out and glued together.
OnlyTheBestOnes