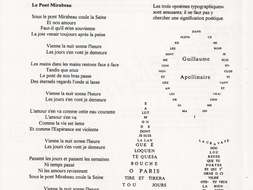 La poésie - une collection de poèmes
Included in this document are poems from 6 French authors/poets: de la Fontaine, Apollinaire, Desnos, Rimbaud, Verlaine and Prévert.

This document can serve as a reference for students as they progress through the different levels of French. For example, starting in French 1, I have my students present poems from this booklet to the class for a grade. It's a great way to work on pronunciation.
Read more