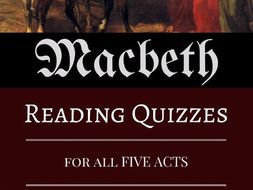 MACBETH Reading Quizzes
This file contains five separate reading quizzes (one per Act) that consist of 10 interpretation/plot questions each. Students are asked to provide the act, scene, and line numbers for where they find the answers in the text. So, this means that these quizzes are designed to be "open book," but you can also make them closed book as well. They also make excellent group activities, discussion guides, as well as homework assignments.

Each quiz includes an answer key with explanations!
Read more