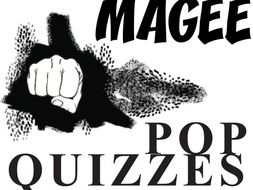 MANIAC MAGEE 13 Pop Quizzes Bundle
Maniac Magee pop quizzes, comprehension checks, exit tickets ... use these 13 simple quizzes however you'd like. Printable & Powerpoint versions provided for simple implementation. Make sure students are staying on track reading the novel.

TEXT: Maniac Magee by Jerry Spinelli
GRADE LEVEL: 4th-8th
COMMON CORE: CCSS.ELA-Literacy.RL.2

··················································································
This resource can be purchased as part of MANIAC MAGEE Unit Teaching Package bundle.
··················································································

This Maniac Magee Pop Quiz Bundle includes:

* 12 Pop Quizzes for Maniac Magee by Jerry Spinelli (1 quiz per couple of chapters)
* 27-slides of PowerPoint Quizzes & Keys
* 24-pages of Printable Quizzes & Keys
* The quizzes also work great as Exit Tickets or Comprehension Check packets.

The purpose of the questions is not to trick the students. But since some students may have read Maniac Magee or watched the movie in the past, each question is crafted to see if the students read the chapter sometime recently. They are easily remembered, short-term answers. I've quality tested the quizzes with students.

Students who recently read the chapters = should get 4-5 correct
Students who did not recently read = should get 0-3 correct

NOTE: This file has been updated to include both the PowerPoint Show and the customizable .ppt file.

Enjoy MANIAC MAGEE! And remember, if Maniac can wave at people, so can we!
Read more