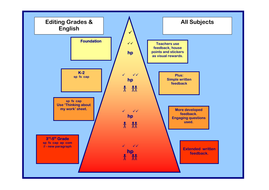 Marking Pyramid Poster
A progressive chart identifying marking criteria and teacher/adult feedback.Color coding helps students see progression up the pyramid.
About this resource
Info
Created: Dec 13, 2011
Updated: Aug 19, 2015
This resource is designed for US teachers. View UK version .
Other resources by this author
Cards to encourage pupil discussion about e-safety scenarios
andyhodges
Self explanatory: a grid for co-ordinate work - also see 'spider and fly' for a game using co-ordinates.
andyhodges
markers with 4 different controls on allowing you to use road signs, maths symbols, numbers or letters.
andyhodges
Popular paid resources
These 'Library Challenge' cards were made for my class library, but they could be used in a school library as well. The idea was just to get the ch...
sh2810
A complete 12 week scheme of work that is fully resourced and differentiated. Contains powerpoint lessons, medium term plan, text extracts and samp...
stebbingk05
This is a hugely popular revision tool for the Y6 Reading SATS test! Get ready for the 2018 KS2 reading assessments with this SATS Question Generat...
KS2History
New resources
Today, we are going to talk about artificial intelligence. It is supposedly the future. Artificial intelligence, or AI, is intelligence displayed b...
NewsFlashEnglish
A detailed Revision Powerpoint on the whole play. Please also see my range of Richard II bundles and resources. Save money with Big Cat Bundles ! P...
tallybarnett
The plague is a disease that killed millions of people across Europe during the Middle Ages. It became known as the Black Death. It appears the kil...
NewsFlashEnglish
Updated resources
THE GREATEST SHOW! - A PLAY OR CLASS ASSEMBLY! A class assembly/play for reception, KS1 or even KS2! We did this with a Reception class - they were...
harleyharleydee
Two lessons which focus on introducing the 'how' question for GCSE Language through a topical editorial. Contains the text and a model answer.
englishlanglit1
This is a lesson for a middle-ability Year 8 class focusing on fantasy worlds. This lesson looks at extracts describing key building in Diagon Alle...
emilymitch182