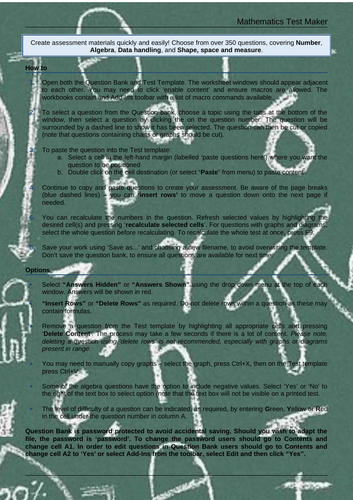 Create professional looking mathematics assessment materials for Key Stages 2, 3 and 4 quickly and easily! Choose from over 350 questions (with answers), divided into Number, Algebra, Data Handling, Shape, Space and Measure topics. Questions are randomly generated in Excel so every assessment is unique.
The price reflects the many hours of work I have spent creating and developing the files and I am happy to assist users who have any questions.
Try before you buy - there is a free version of this resource (containing number questions):
Key Stage 3 Mathematics Test Maker Demo
Thank you to TES for featuring this as their
Resource Of The Week
Files are updated on a regular basis.
Follow me on Twitter and Pinterest @hatchtag73.
Tes paid licenceHow can I reuse this?
Something went wrong, please try again later.
This is amazing! If you're not fluent with excel then it may take you an hour or two to get your head round using it! It was so easy to use until I got to the graphs questions and I had a few issues due to having the two files open... maybe due to the fact I'm using office 2010 but who knows! The "cut" add-in wasn't visible then it said I couldn't paste into the test file... after a few attempts and switching macros between the two files, I managed to make the "cut" add-in visible and switched the macros back to the test file in order to paste the question. This might have been more difficult because I'm not very good with excel but I figured it out in the end and it will definitely make future test making much quicker now I know how to use it. A fantastic resource and well worth the money. Thanks for taking the time to make it!
Good question banks but does not work as designed. Get a run time error 5 on load. Macros do not work properly and also get cells read only so cannot paste across at all. Very frustrating. Thought it would make test making easier but not the case so far. I am still working on it but not what I was hoping for.
I have bought the resource but i am having trouble adding questions to the test template. it has only allowed me to add three questions but then i can not seem to add any more as i can not scroll down to add more...help please
I am having so much problems using this resource. It has taken me the better part of 3 hours to set a test which still has problems and cannot be formatted for others who do not have the resource. The scale for the quadratic graph does not change when the function changes (ALG 23). The total at the top of the page is not the same as the total for the questions. Been fooling around computers fro decades and I can't recall such frustrations ever - ironically, I was seeking an easy way out. I must be doing something completely wrong. Any help available, please?
Looks good. One question though I cannot get the straight line graphs to match the described equation when I create two of this type (Algebra17). Am I doing something wrong please or are similar questions not possible. Thanks
Report this resourceto let us know if it violates our terms and conditions.
Our customer service team will review your report and will be in touch.