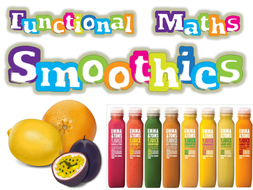 TES PICKS
Maths mini-project "Smoothies" - (ideal year 6 after SATs)
A fun Maths Project based around smoothies, contains 5 lesson ideas which could be extended further over 2 weeks and also linked in with healthy eating.
Pupils work in pairs or teams:
-Split into teams and discuss the skills required
Calculate costings with proportion and division -which is best value? (can link in with supermarket offers)
-Complete an optional practical measuring out (requires juice/squash and water and measuring equipment) (could link in with converting units)
-Design a product and advertise (option to make video ad and link with persuasive writing)
-Create a net of the product - (could link in with volume/surface area)
Complete reasoning problems with a smoothie theme based on recipes and proportion
Perfect for a summer term project and ideal year 6 after SATs.
This resource contains a powerpoint with answers and printable sheets.
Read more
About this resource
Info
Created: Apr 27, 2017
Updated: Jun 12, 2018
Get this resource as part of a bundle and save up to 27%