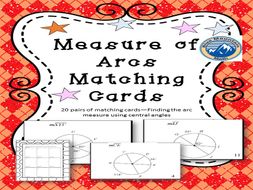 Measures of Arcs Matching Card Set
Set includes 20 pairs of matching cards: one half the cards has a diagram of a circle with arc indicated and the other half has the measure of the arc. Students use their knowledge of circle theorems to solve for the arc measurement.

Use individually, in pairs or small groups to have students match cards or use as a warm up, team competition or one of the other ways described in my free resource.
Read more