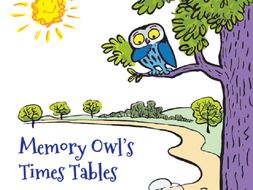 TES PICKS
Memory Owl - All Stories
Memory Owl's Times Tables - All the Stories!

This is a printable copy of my book, containing all the times tables from 2x to 12x (omitting 10x and the easy 11x) which you may print as many copies as you like for use in your class.

This is a way of learning times tables using visual techniques where the numbers are turned into characters who interact in stories. Great for children with dyscalculia or anyone who has difficulty remembering times tables using traditional memory methods.

If you would like to buy a hard copy of the book, flash cards or other resources, please see my website www.memory-owl.com.
About this resource
Info
Created: Jun 19, 2017
Updated: Feb 22, 2018
By adding a School licence it allows you to share this resource with colleagues at your school. Without it, this resource is licensed for use only by you. Read licence details