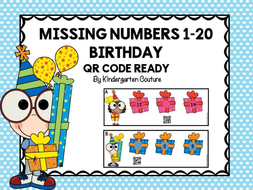 Missing Numbers 1-20 Birthday Theme QR Code Ready
hese task cards can be used with or without using the QR Codes.
To use these task cards as a QR Code missing number activity, students will read the numbers on the candy canes and determine the number that is missing. Then, they record the missing number on the provided recording sheet. Next, they scan the task card and look to see the correct answer. Students will need a mobile device with a QR code reader such as a tablet, iPad, iPhone, etc. QR codes are a great way for your students to get immediate feedback during center time. Task cards can be used as a write the room activity since they have a letter on them and matching recording sheet!
Read more
About this resource
Info
Created: Mar 28, 2017
Updated: Feb 22, 2018