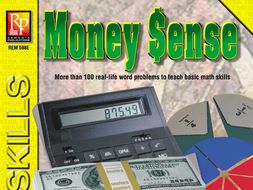 Money Sense: Practical Practice Math
Money Sense is the perfect way to build students' math skills while helping them gain a true appreciation for math in everyday living. This comprehensive book offers plenty of practice using everything from addition to division, percents, fractions, decimals, and more!

Students are introduced to a variety of money situations such as: budgeting, credit cards, income tax, savings and checking accounts, getting paid and paychecks, sales discounts. A real, practical application of math!
Read more