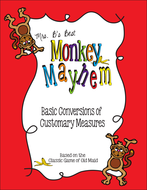 Monkey's Mayhem Card Game: Customary Measures Basic Conversion
This Monkey's Mayhem card game allows students to practice making basic customary measurement conversions in the classic 'Old Maid' game format. In addition, the cards could be used to play the classic game of "Concentration"--just remove the "Monkey Mayhem" card.

Only, what I call, 'basic' conversions are included. For instance, 1 day equals 24 hours or 4 quarts equal 1 gallon or 12 inches equal 1 foot. Customary units of capacity, length, weight and time are included. The set contains a total of twenty-three pairs of cards. Also, included is the "Monkey Mayhem" card (my version of the 'Old Maid') and an instruction
card.
Read more
About this resource
Info
Created: Sep 7, 2015
Updated: Feb 22, 2018