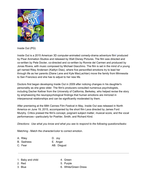 Movies 4 Social Studies - Inside Out - Emotions, Personality, & Behavior - Psychology
Are you looking for an activity to help students make connections to your psychology unit on emotions and personality? Let Hollywood help. Inside Out is rated PG and is a great movie that focuses on emotions/personality and how they manifest into behavior. Students love this activity and this movie. As your students get to know the characters, you will have many opportunities to make many connections or refer back to their stories.

This lesson includes a movie review, an answer key, and 30 questions that guide your students through the action. You will have to purchase the movie.
Read more