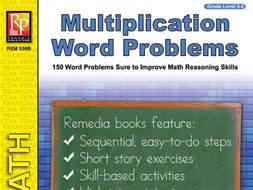 Multiplication Word Problems
Solve it with math!

This 16-lesson learning unit starts with two "Fast Action Multiplication" exercises designed to be timed. From here, students move on to word problems that progress from one-digit, to two-digit, to three-digit factors, and finally to worksheets comprised of a combination of addition, subtraction and multiplication problems.

In all, there are more than 100 story problems included in this book. Students will get plenty of practice by the time it is completed.

Read more