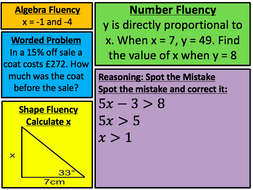 New Curriculum Starter Higher GCSE
A mixture of 5 questions exploring the new curriculum. Fluency, Reasoning and Worded Problems all included which are vital in the new curriculum.
There is 6 of the same starter so pupils do this for 6 lessons running with the aim of mastering these key topics. All solutions included.
About this resource
Info
Created: Jun 19, 2017
Updated: Feb 22, 2018
Other resources by this author
A series of lessons (1-2) on solving equations involving Algebraic Fractions. The main task is differentiated 3 ways however there are many further...
IanBrennan
A complete lesson on converting between mixed number and improper fractions. Full of problem solving and reasoning for new 9-1 Curriculum. Fully di...
IanBrennan
Series of Lessons (2-3) on expanding brackets with surds. This lesson gives pupils enough opportunity to master the fluency, however gives them the...
IanBrennan
Popular paid resources
A self-contained game to be played in pairs. Use to revise reading coordinates on a grid. Best played once coordinates have already been introduced...
Miss-Becky
Recommended by TES Panel. An investigation which allows the learners to find the rules for transformations plus some example questions. PLEASE REVI...
kmbheck
2018 VERSION NOW AVAILABLE HERE! (copy and paste link) https://www.tes.com/teaching-resource/new-2018-ks2-sats-revision-ultimate-3-in-1-maths-organ...
ambowers2
Updated resources
This is a whole lesson looking at forming and solving equations. It is specifically designed for more able classes who are looking to tackle some o...
ajf43
Expanding brackets differentiated dominoes This activity is a fun and novel way for students to practise expanding brackets. They can start on any ...
MissEHoney
This activity helps to strengthen students' skills in substituting a value into the formula of an arithmetic sequence. Click --> https://tes.com...
Maths4Everyone