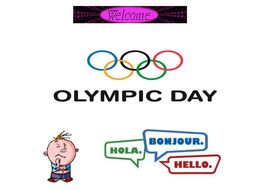 Olympic Day/Parade/Assembly (£2.00 for June only)
Olympic Day/Parade/Assembly: **** Special price for month of June ****

This resource was used last week for a whole school entry point. The school was divided into 15 countries and took part in a whole school assembly and parade. The 15 countries reflect the 5 Olympic Rings, with 3 countries being chosen from each continent (The Americas being one).

Olympic Entry Point PowerPoint:
This PowerPoint shares a brief history of the games, followed by 15 slides to reflect the 15 countries. Each slide has a country flag with the national anthem playing in the background. The national anthems play automatically and all timings have been preset.
During the parade I also shared facts about each country. This is attached as a Word document. I read these out during each national anthem.

Olympic Introduction:
This is a great activity that can be used as a warm up activity during the assembly. It is based on the popular TV programme 'Family Fortunes'. During the presentation click on the number if the children get it correct and click on the 'X' if they get it incorrect. Great fun for teachers vs. students.

Olympic Scoring Card:
This was used for the 5 events during the day. I have just added this to give you a flavour of the day.

Enjoy!
Read more