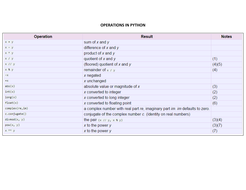 OPERATIONS IN PYTHON
Other resources by this author
INFORMATION AND COMMUNICATION TECHNOLOGY Paper 21 Document Production, Data Manipulation and Presentations May/June 2016
pmgber
TUTORIAL 0417/21 ICT February/March 2015 Paper 2 Practical Test
pmgber
IGCSE ICT Paper 2 Document Production, Data Manipulation and Presentations February/March 2016 Database Part Task 3
pmgber
Popular paid resources
When these booklets are printed you have 8 theory lessons primarily based on the BBC Bitesize website. Follow the bitesize online pages and activit...
anthellison
This resource was developed for Advanced Higher Computing Science (Scottish Curriculum). It describes a linked list and works through the implement...
A_Cowie
Worksheet for IGCSE computer science output devices unit, covers all spec points in unit.
Stephens1412
Updated resources
More than 600 computing terms explained in Plain English and designed to be used as exam answers - many of the definitions are based on the mark sc...
Maths4Everyone
This is ScratchUp! A cunning combination of Sketchup (3D CAD) and Scratch (Coding) to bring your pupils' programming projects to life! The idea for...
PhilWickins
Due to the prevalence of technology, cyber security is one of the greatest opportunities and threats humankind knows. Your pupils will already use ...
BritishArmySupportingEducation