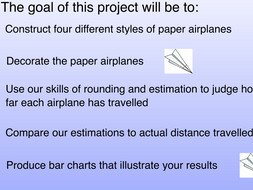 Paper Airplane Project: Rounding, Estimating and Data Processing
This presentation (including embedded hyperlinks and worksheets) is a multi-week project where students will apply their knowledge of rounding and estimating numbers and then processing that data via various graphing methods. My students had a lot of fun with this and were always eager for the next session. I hope yours feel the same!

Promethean/ActivInspire software is required for this file.
Read more