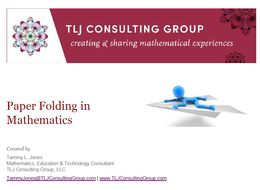 Paper Folding in Mathematics
Paper folding can be a useful tool of investigation for some students. Here are a few opportunities for using paper folding in the secondary mathematics classroom from difference of squares to an infinite geometric sequence. Directions are included as well as an extension activity for a learning station on paper folding to punch one hole and create a pattern.

This resource is useful for students with Dyslexia and language-based learning deficiencies. We'd like to hear about your experience with our resources. Just give it a star rating then tell us what you think, simple as that!
Read more