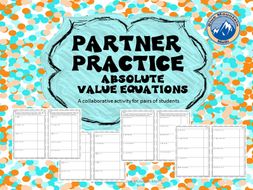 Partner Practice Absolute Value Equations
Students practice solving absolute value equations in this partner activity. Pairs of students work to complete 2 different versions of a worksheet. When partners solve their problems, they compare answers. If answers are the same, they move on and if different they compare steps to determine the error.

This works well for students of all levels, and includes are 2 sets of worksheets for partners a/b on one day and different partners c/d on another day. Also included is an exit ticket to check for understanding.
Read more