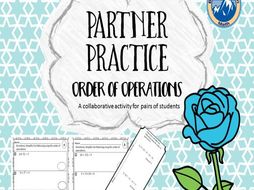 Partner Practice Order of Operations
Great collaborative resource to have students practice the order of operations. Students can work in pairs (trios will work as well), one person completes A and the second person completes B and then compares answers. Problems are different, but answers are the same. Self - checking--when students have the same answer they know they are correct, but different answers mean they need to go back and check for their mistake.

When students are stumped, one person visits another pair, gets help and is responsible for sharing the solution and all the steps with the partner. Encourages discource in the classroom as they practice this important skill.
Read more