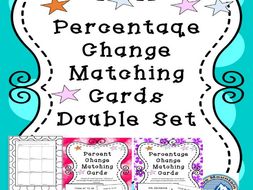 Percentage Change Matching Card Double Set
Students practice finding the percentage change in this matching activity to use in a variety of ways. The set includes 2 decks of 18 pairs of cards. In one set, half the cards have two integers and the other half have the percentage change between those two numbers. In the other set, there are 36 problems, 18 pairs with the same solution. Two different levels of difficulty make it easy to differentiate in the classroom activity. Answer keys are included for all. Each set sells separately for $3.00 so buying the double set will save you money.


I cut out and laminate the different sets for easy reuse and practice. Can be used as a warm up, use for a single student or pair of students or use as a station/group activity. You can also use these cards as a ticket in the door or ticket out the door. Additional uses for these cards are explained in the directions or download my free resource.
Read more