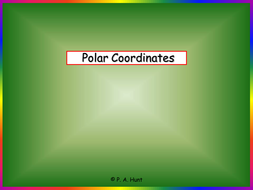 Polar Coordinates 1
A 'Teach Further Maths' Resource

42 slides

Lesson Objectives:

To understand what is meant by 'Polar Coordinates'.
To be able to plot Polar Coordinates.
To be able to sketch curves given in Polar form.
To understand that some simple polar curves can be sketched without plotting points.
Read more