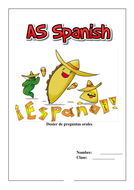 Preguntas orales para Spanish Year 1 (AQA)_Bank of prompting questions and advice
¡Al fin acabé!
I have finally finished putting together oral questions to practice for the speaking.
This is a 26 pages booklet with a few hundred questions that students can use to practice but also to research some topic areas.
First couple of pages also include info about the oral examination and some tips.
And then, there is a bank of idioms that students can use with translations and examples of the idioms so that they can see how they would be used. They are all grouped per topic but can be used for lots of other topics.
Read more