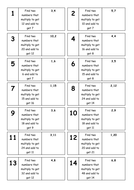 Prep for Factorising Quadratic Expressions – Quiz Quiz Trade – Kagan – Printable Cards
A great activity to engage students and build both their mathematical ability and confidence, based on Kagan cooperative learning.
Students have a card each and move around the room asking the question on their card to other students. The answer is also printed on their card so they can see if their partner has the right answer. If needed, they can use their understanding to coach their partner towards the right answer. Once both students have asked their question they trade cards and move on so each student has a variety of questions that they are asking to others.
This activity involves finding factors that forms the basis of factorising a quadratic expression. Or just for general factorising practice.
About this resource
Info
Created: Jun 14, 2017
Updated: Feb 22, 2018
By adding a School licence it allows you to share this resource with colleagues at your school. Without it, this resource is licensed for use only by you. Read licence details