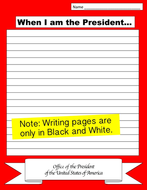 President's Day Writing Prompt Printable Page(s)
Want to motivate your students with a creative writing prompt?

This set includes tree choices of backgrounds for your students to use as they explain how life will be when they become the President of the United States!

Each is formatted on a single page.

Read more