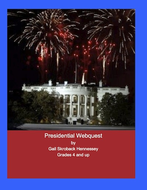 Presidents! A Webquest
Did You know that President John Quincy Adams had an alligator? Martin Van Buren had two tiger cubs and President McKinley's pet parrot could whistle, "Yankee Doodle". Did you know that President Franklin D. Roosevelt served HOT DOGS to the King of England? Did you know that President Garfield could write with both his right and left hand at the SAME time? You students will learn lots of information with this Presidential Webquest/Extension Activities resource!

Also have a web quest on FIRST LADIES...

7/31/16: I fixed question 4 because the link was no longer working.
Read more