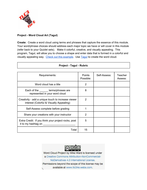 Project - Word Cloud
Turn any vocab assignment into an authentic, creative endeavor. Project word cloud incorporates 21st century skills and can be applied to any subject. This quick project will allow you to provide the scaffolding that takes your students from vocab to creative.

Be prepared to show off some great student creations!

Read more