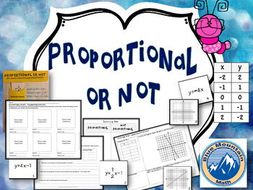 Proportional or Not--Identifying Proportional parts
Multi-activity packet to reinforce student understanding of proportionality. Students work either independently or in pairs/groups using the enclosed sorting mat to sort graphs, equations and tables--identifying those that are proportional. Students then formulate the rule. Culminating activities (several versions) include taking a graph and matching the equation and table that matches and then writing the table/graph or equation for a problem of their own.

In my classroom, this group of activities took several days to complete. Answer Keys included for all.
Read more